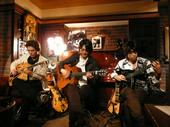 Hiroyuki Tsutsui, Kiichi Asanuma and Kazuo Washio make up the Jazz group ait guitar trio. Each member are accomplished artists on their own. Together they have a huge repertoire that includes everything from jazz, latin and pop standards to their own original songs.
Their music stems from the different sounds of electric, jazz, flamenco, and acoustic guitars. Forging a unique sound you won't hear anywhere else.  It also helped them to win the Gibson Jazz Guitar Contest in 2003.
Since then they have released two albums:
2008: " 6 x 3 seis por tres " (also available on iTunes Japan)
and their latest album " LITTLE FLOWER " in Aug. of 2010. Their new album also features jazz violinist Yu Ma, adding a whole new dimension to their music.
They continue to build upon the harmony of their guitars and are performing in and around the Kansai areas of Japan.
…
ギターリスト3人編成のバンドで、ジャズ、ラテン、ポップス等のスタンダード曲のアレンジからオリジナル曲まで幅広いジャンルを演奏。他にはないギターだけのアンサンブルを聴かせる。3人それぞれのルーツ、スタイルは異なりエレキギター、ジャズギター、フラメンコギター、アコースティックギター等を持ちかえて演奏。ギブソンジャズギターコンテスト2003バンド部門グランプリ獲得。ギター3本だから出来る事、そこから生まれるハーモニーを追及し、3人の個性を活かしたアレンジで関西を中心に演奏活動している。
2008:「6 x 3 seis por tres」をリーリスしました(iTunes Japanにもあります)
そして最新のアルバム「LITTLE FLOWER 」2010年8月にリーリス。しかもアルバムにジャズヴァイオリン奏者Yu-Maを参加してまた特別のサウンドとハーモニー生まれだす。