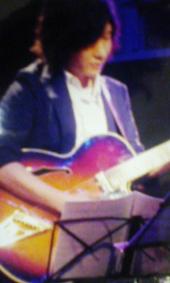 Guitarist Yosuke Miyajima played his first guitar chord way back in 1996.  Four years later he won the young guitarist award at the GIT Masters 2000. He went on to study under the very experienced jazz guitarist Junzo Iwami.
Currently he is playing with The Masayasu Tzboguchi Quartet around the Tokyo area.
With a style similar to jazz legend Wes Montgomery, Yosuke-san continues to push and broaden the traditional jazz sound.
2000年、MI JAPAN、ヤングギター主催のギターコンテスト
『GIT MASTERS2000』にて優勝。岩見淳三氏にギターを師事。
現在、オーソドックスなジャズを基に、その可能性を追求している。
『坪口昌恭Quartet』としても活動中。
奏法はピックを使わず親指で弾くウェスモンゴメリーのスタイルを用いる。