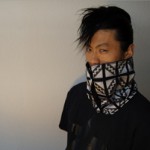 Shing02 is an MC activist, rapper-songwriter, producer, peace advocate.
Born in Tokyo 1975, raised in Tanzania, England, and Japan. Shing02 landed in California at the age of 15, and soon thereafter got involved in creating art, which was the first love. After a move to Berkeley for schooling he became immersed in the local scene which also nurtured dozens of creative hiphop acts. Eventually in '96, Shing02's music made its way back to Japan, partnered with Mr. Higo of Mary Joy Recordings, garnering tremendous support in his homeland. Currently touring in support of new Japanese album "Y-Kyoku", he's envisioning new music as member of Kosmic Renaissance trio and the inventor of the Vestax Faderboard.
His new CD  "400[甦]" is available on itunes and other online stores now!
notable performances:
Pavarotti Music Centre. Mostar, Bosnia ('00)
Fuji Rock Festival, Japan ('00, '02, '08)
Rising Sun Rock Festsival in Ezo, Japan ('02, 06, '08)
Fondation Cartier Pour L'art Contemporain. Paris, France ('02)
Tokyo Style in Stockholm / Gothenberg, Sweden ('04)
Kosmic Renaissance Japan Tour ('04, '05)
Geshi Festival, Japan ('05, '08)
M.I.A. Japan Tour ('06)
Festa de Rama. Hiroshima, Japan ('08)
Stop-Rokkasho w/ Ryuichi Sakamoto, et al ('06)
…
最先端のテクノロジーと解放的な文化が共存するサンフランシスコのベイ・エリアで才能を磨いている一人のMC / プロデューサー。 1997年より日本で活動開始。これまでに「絵夢詩ノススメ」、「Pearl Harbor / Japonica EP」、「緑黄色人種」、「400」を発表。 国内外のプロデューサーとの客演も多数こなし、即興ジャズ・トリオ「Kosmic Renaissance」としての活動を経て成長を遂げた。 2002年「400」以降、Shing02日本語アルバムが、6年の制作期間を経て遂に完成。歪曲された社会に提示する人源サンプリング集「歪曲」は、平 成20年6月18日全国公開。
現在Shing02の新しいアルバム"400[甦]"itunesと他のオンラインショップで発売中!