Etsuko Tajima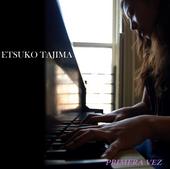 Etsuko Tajima is a jazz pianist, composer and vocalist originally from Tokyo, Japan. She grew up with a musical family which gave her a natural musical sense.
Etsuko visited New York City at the age of 17. She was taken to The Blue Note's midnight jam session where she was inspired by and fell in love with jazz music. As soon as she went back to Japan she started to take voice lessons and performed in restaurants and clubs. Etsuko then decided to study abroad in NYC at the age of 20 and enrolled at The Brooklyn-Queens Conservatory of Music where she received her Diploma Degree in jazz piano performance. At the same time she was a regular choir member at the Day Spring Church in Roosevelt island and sang at nursing homes and shared the stage with other Gospel Choirs at Madison Square Garden. .
After she left the choir she started to work on her own and found that she wanted to play piano again. She changed her major to piano and started accompanying herself.
Currently Etsuko Tajima is working on her original music while playing regularly around the New York area. Her newest album "Primera Vez" was released recently. You can read about it here.
With excellent style and range, Etsuko is an artist to check out soon.
Leave a Reply