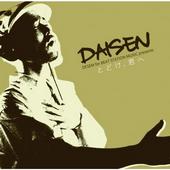 Japanese reggae artist DAISEN is an experienced musician who mixes his DJ flow style with soft melodies to produce a cool sound with a message of harmony.
Since 2000 he has performed in bands and solo around his native Japan. He has also been featured on numerous compilation albums (see below). He released his first mini album "Totoke, Kimi he"(Send To You) in 2008 and is currently performing around the Tokyo and Kanagawa areas.
His latest single "Mitsuki no Kaze" is on sale now.
緩急極めたバイブスと巧みなるフロウを変幻自在に操るDeeJayスタイル、そして一方では、 果てしなく優しいメロディーと心にストレートに響くメッセ-ジを融合させるSingJayスタイルを 使い分ける、技巧派レゲエ・アーティスト。
2000年より、地元川崎、横浜、東京でレゲエ.シングジェイ「キグ仙人」としてマイクを握り始め、 日本全国各地~カナダでのライブ活動を経て、4DeeJayのレゲエ・クルー「俄(にわか)」を結成。2年間に渡り関東を中心に200回以上のショウーケースのステージを踏ん後、2005年に 「俄」としての活動を休止、アーティスト名を、「DAISEN」へと改名し、ソロ活動を開始。
その後、全国各地でマイクを握った後、「RUDE FISH MUSIC」、「ARUZ STUDIO」、 「YALOW PRO」などのコンピレーションアルバムに録音され、全国各地のSOUNDの DUB MIX CDへ参加し、2006年には「Road To 横浜レゲエ祭」に出場し、決勝へ進出。 2009年再び出場し、再び決勝戦ファイナリストに名を連ね、その唯一無二の神がかった存在感と持ち味の温かみ溢れるメッセージを全国へ広めて行く。
2008年9月、プロデューサーとして盟友DESEM (YARD BEAT)を迎え、コンシャス系 コンセプト・ミニ・アルバム『とどけ、君へ』を完成させシーン待望のデビューを果たす。 発売後、とどけ、君へが着うたサイト「レコ直」、「music.jp」、「レゲエROCKERS」で1位を獲得。他サイトやitunes storeでも上位を獲得するなど話題を呼んだ。
発売と同時に「YARD BEAT+BSM GREETINGS JAPAN TUOR 2K8」と称し、 BSM 第一弾 コンピレーションアルバム「SLOGAN」、同レーベルより発売された DAISEN 1st ミニ.アルバム 「とどけ、君へ」のリリースツアーを兼ね YARD BEATと共に 約3ヶ月に渡り全国27ヵ所を巡るツアーを敢行。「とどけ、君へ」のPVは9万VIEWを越え、 今尚ヘヴィロ中&デジタル限定シングル「三月の風」絶賛発売中!!