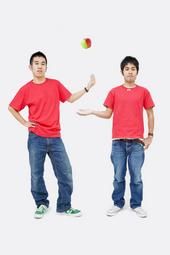 MCs EARVIN and P got together in 2003 to officially form the hip hop duo Ulifters (ew-lifters). 5 years later they released their self-titled debut album in 2008.
In 2005 they worked with various groups and developed their style featuring the gentle flow of P and the harder rap of EARVIN. Add to that their peaceful and catchy lyrics and you have a band turning heads in the underground and overground scenes.
In 2009, in a move designed to increase their breakout chances, they added keyboards (EARVIN) and the Cajon percussion instrument (P) to their mix. This has successfully added a whole new dimension to their music and live performances.
Their latest CD was released in 2010 so be sure to look into these guys soon.
2003年に結成、"瓜二つ"!?なMCのEARVIN(アーヴィン)とP(ピー)からなるHIP-HOPグループ"ウリフターズ"のデビューアルバム「ウリフターズ」!!2005年、お互いの個々のグループ活動を経て本格的に始動。顔は似てるけど全く異なった声質は、Pの優しさとEARVINの力強さが交差し絶妙なコントラストを描き出している。リリックにはピースフルな思いが込められながら飾らない言葉で多くのオーディエンスを魅了する。アンダーグラウンドからオーバーグラウンドまで多くのイベントやライブをこなしており、パフォーマンスには定評がある。今作はサウンドプロデュースに mihimaruGTのアレンジなどを手掛ける新鋭トラックメイクチーム"PRO SOUND PORTERS"を起用しさらに楽曲の幅を広げ二人の世界観を作りあげている。
2009年より自分たちの可能性の幅を広げるため、
EARVINはキーボード、Pはカホン(打楽器)を使い、
生演奏でのライブも行っており新しいウリフターズを開拓中!!!
また、4月に行われたワンマンライブでは、ピアニスト、saxプレーヤー、
ビートボクサー、そしてSMAPに楽曲提供等しているナイス橋本、
またHIP HOPのパイオニア、GAKU-MCとも共演を果たした!
キーボード、カホン、CDJ、そしてラップ。
どこにもない新しいHIP HOP、いや音楽を探して
ウリフターズの旅はつづく!
Upcoming Events:
7月25日(日)@千葉ポートタワー展望室 【LIVE AIR 125】
7月27日(火)@吉祥寺SHUFFLE 【吉祥寺SHUFFLE 3周年イベント】
8月22日(日)@千葉ポートタワー展望室 【LIVE AIR 125】