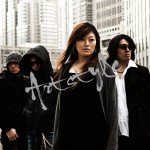 Artstyle is indies rock band originally formed in 2004. They quickly released their first demo and began working live gigs around the Tokyo city area.
After going through several member changes, the band disbanded in 2008 only to return once again in 2009 on original member Garam's Rock Project.
Through it all the group's sound has remained constant with a strong rock sound contrasted with the clear, distinct vocals of their lead singers.
Their new album "Chain -絆-" is currently available via the online store CDbaby!
….
2004年、都内で女性VocalのHR/HM系バンドとしてArtstyleが始動。1st demoを制作の後、都内中心にLive活動を始める。
その後、精力的に作品制作を行うも、度重なるメンバーチェンジの末、2008年に一度活動停止。
2009年より、オリジナルメンバーのGaramによるロックプロジェクトとして活動再開。音楽だけではなく、映像、ラジオドラマ等様々な分野の芸術との融合を目指す。
現在Artstyleの最新アルバム「Chain -絆-」オンラインんショップCDbabyに今発売中
そのストロングなスタイル是非チェックしてくれ。