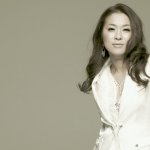 Originally debuting in England with the group escalators in 1994, Soul R&B songstress ZOOCO has had a long and successful career.
Throughout the 90s she continued to sing with her group and on solo projects. After leaving the escalators in 2000 she continued her solo work as well performing at Open Mic events in NYC.
In 2002 she hooked up with soul hip hop unit SOYSOUL and released the self-titled album "SOYSOUL" with them in 2003. As well as singles in 2004 and 2005.
In 2006 ZOOCO released "LOVE CANDLES", her first solo album in 5 years. Featuring duets with some of Japan's popular musicians.
She celebrated her 15th anniversary in music in 2009 with the release of her album "Reality Of Life". Recorded overseas the album was a collaborative effort with established Japanese and foreign musicians, producing her most memorable album to date.
Currently she is composing and singing chorus for big name Japanese pop artists including V6, BoA, Gospellers and more.
This talented Diva continues to evolve and grow and is highly recommended.
……
1994年、escalators(エスカレーターズ)のヴォーカリストとしてイギリスデビュー。
同年4月COLOMBIAから日本デビュー。
96年11月にインコグニート等によるリミックス・マキシシングル
『WINTER MELODY』などシングル7枚・アルバム7枚リリース。
1997年7月、James Poyser、Jay-Dee(Slum Village)、佐々木潤、K-Mutoら日米のクリエーターとのコラボレーションミニアルバム『Grow-Mellow-Flow』をソロ名義で発売。
2001年1月1日escalators脱退後、ソロ名義でリリースすると同時に単身渡米し、NY・ハーレムのライブハウスや『ヴィレッジバンガード』などでのオープンマイクに参加。
2002年、MAZE featuring Franky BeverlyのメンバーだったPhilip Wooなどと結成した11人編成ユニット『SOYSOUL』では、Rock・Soul・Funk・HipHopなどあらゆるジャンルを融合したサウンドを提唱。
2003年、10月アルバム『SOYSOULⅠ』、2004年8月シングル『CAN'T STOP』、2005年3月25日ミニアルバム『STRAIGHT, NO CAHSER』をリリース。
2006年11月10日には、5年ぶりとなるソロアルバム『LOVE CANDLES』をリリースしゴスペラーズ村上てつや氏とのDuetや村上"ポンタ"秀一氏や秋田慎治氏など豪華ミュージシャンとの競演。
2007年3月〜4月にかけてアルバムツアー『LOVE CANDLES Tour 2007』を11都市12公演開催。
2007年12月14日にSkoop On SomebodyのKO-HEY氏や、安岡優氏(ゴスペラーズ)など豪華ミュージシャンが参加したソロ第2弾『Lady Soul』を発売。
2008年ゴスペラーズ村上てつや氏をサウンドプロデューサーに迎え、元HUMAN SOULのヴォーカリストとしてNYのアポロシアターのアマチュアナイトで東洋人初のグランプリを獲得し日本を代表する男性SOULシンガーJAYE公山 氏とSweet&HotなDuetアルバム『Street Sensation』を8月22日にリリース。9月には大阪城ホール、代々木第一体育館で行なわれた『SOUL POWER SUMMIT 2008』に『JAYE&ZOOCO』として単独出演。
2009年7月、デビュー15周年を飾る今年、NewAlbum「Reality of Life」をリリース。
今作は海外レコーディングを敢行し、海外のミュージシャンやクリエーターとのコラボレーションを含む、ZOOCOのこれまでのキャリアをより高いレベルで集約させた作品となった。
作詩に安岡 優(ゴスペラーズ)、SAKURAを起用。マライア・キャリー、エリカ・バドゥらの敏腕トラックメーカーJames Poyserを始め、Souliveのキーボーディスト/Neal Evans、Duet Voには椎名純平をゲストに迎え、ジャンルや世代を超えた、新しいZOOCOの真実の世界 "New Reality"が鮮やかに表現されている。
また、ともさかりえ、山田優、V6、三浦大知、MAXなど他アーティストへの楽曲提供、角松敏生、BoAなどへのコーラス参加等幅広く音楽活動を行っている。