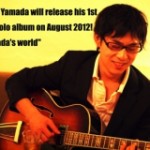 Jazzy Pop guitarist Nylon Yamada has working his cool sounds since graduating from Maser School of Music.
After graduating, instead doing his own projects he focused on supporting bands and musicians of various styles.
In 2009 he joined up with funk/soul band soulit, performing as guest for their shows and eventually going overseas for recording and tours.
With Nylon's addictive pop jazz time its to get lost in his cool music flow.
He is currently working on his own projects now which will hopefully be coming soon.
…….
JAZZY&POP!ギタリストNyron山田
maser音楽学校を卒業後、自主的な活動ではなく様々なジャンルのミュージシャンのサポート活動やセッションワークを重ね、経験を積む。
2009年にsoulitと共演をきっかけに度々ゲストとしてライブに参加しまた海外ツアーに同行し、自身はじめての海外レコーディングを経験する。
それ以降もsoulitの専属サポートギタリストとして様々な大舞台に立ち
2011年には二度目の海外レコーディングとサンフランシスコ最大の野外フェスティバル、サクラフェスティバルにてメインアクトとして念願の海外フェス出演を果たす。
2012年様々な経験を生かし、自身のソロプロジェクトを立上げ爆進中