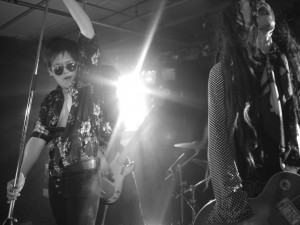 *This group is no longer active musically
Check out Ei's new group here

**Rösebud Möuthは現在活動停止。。
Eiの新しいバンドこちらにチェック
Rösebud Möuth was formed by founding member Ei in 2004.
Since then they have released 4 EPs which are available at their live shows.
2009: The band played as the opening act of Hoodoo Gurus in Japan.
2010: The band relaunched with new singer, Shin from Korea.
He sings as if he's a "70's Rock Singer", and is led by riffs created by Ei.
In the same year they released their latest EP "Shot to the Bishop (地獄の司教を撃ち殺せ)" And will be available online at Disk Union Japan soon.
This band is a very classical rock band but never out of date.
Check out their live gigs soon!
…
Rösebud Möuthは2004年にオリジナルメンバーEiによってを結成しました。
それ以外4枚のEPをリーリスして、バンドのライブに買うこと出来ます。
2009年:前座としてHoodoo Gurusの日本ライブを参加
2010年:バンドをリニューアルして、韓国の新ボーカルShinを入り。 彼の歌は70年代のロックシンガーを似て、それがギタリストEiのリフでサポート。
現在東京で様々のライブをやってます。しかも9月4日から新EPリーリス!必ずチェックしてくれ
Rosebud Mouth's New EP (500yen/tax in)
"Shot to the Bishop"(「地獄の司教を撃ち殺せ」)
1. Suck Me
2. Check Mate
3. Day Tripper
※ディスクユニオンで販売予定です!