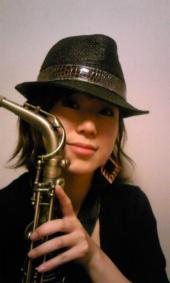 Kagawa native and jazz saxophonist Miyuki Moriya started her studies in Osaka with classical music under veteran sax player Akamatsu Jirou. She later went on to study jazz under Hidefumi Toki and Tada Seiji and hasn't looked back since.
She has gone on to lead bands at live houses around major city areas in Japan. She was also a member of the All Ladies band BIANCA.
In 2006 she had her first big break when major label Victor Entertainment included her song "Chocolate" on the compilation album LE CHOCOLATE DE H.
In 2008 Miyuki released her first major album  BIANCA and received ADLIB New Star award in Japan. She is currently doing live gigs in and around the Tokyo area.
*Her First Album "Cat's Cradle" will be released on Oct. 6th.
….
香川県出身。大阪音大でクラシックを赤松二郎氏に学び、その後転向し、土岐英史氏、多田誠司氏にジャズを学ぶ。 自身のリーダーバンドで都内のライブハウスを中心に演奏する他、女性バンドBIANCAのメンバーとして活動する。 2006年ビクターエンタテインメントより発売のオムニバスアルバム、「LE CHOCOLATE DE H」の中に自らが作曲した「Chocolate」が収録される。 2007年、松尾スズキ演出のミュージカル"キャバレー"に出演。 2008年、テイチクタクミノートよりアルバム「BIANCA」でメジャーデビューし、ADLIB アワード国内ニュースター賞を受賞する。 その他も、日野皓正PRESENTS"JAZZ FOR KIDS"に「DREAM JAZZ BAND」の講師として参加するな様々な活動をしている。