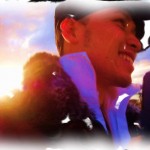 Daisuke is a soulful Vocalist with a 4 octave range. In his formative years he was originally into the classic band sounds of Chicago and Boz Scaggs.
He eventually began performing with bands of various genres until graduating from University in Shizuoka. From there he began his true musical journey.
Afterward he was drawn to the coolness of "Black" Soul music which has influenced many of his Cover and original song arrangements.
He is currently performing live, solo and with other bands, in and around the Tokyo area. Check out his myspace page for the soulful goodness.
……
オクターブの声域を持つVocalist。
幼少時代から"オシャレな音楽"に興味を持ち中学生時代にはChicagoやBoz Scaggs等のAOR musicにハマる。
その後数々のバンドを組み様々なジャンルの活動をこなし地元静岡の沼津工業高等学校を卒業した後、音楽の道へ。
上京してからはBlack Musicの魅力を学び、現在は多彩なアレンジで送る数々のカバー曲と"オシャレな音楽"を基としたオリジナル曲での自身のLIVEを展開中。
その他数々のバンドでのコーラス,ゲスト出演をしている。
◆Falsetto-Combination (裏声を化合)
2009.11/10のJZ Brat LIVE出演を機にバンド名を『Fal-Comb.』に。
Vocal:Daisukeが作り出すバンドサウンドにはファルセットが欠かせない。
その心地よくも力強い裏声は聴いた人を魅了する。
Duo, Trio, Band, Big Band…演奏スタイルとメンバーはLIVEにより様々。
だが、どんなスタイルでもDaisukeの声はバンドと化合する。
そんな意味合いの名前『Fal-Comb.』。