KINLAY is a 4-piece Rock Funk Dance band from Tokyo, Japan. Andy MacKinlay (Manchester, UK) is the lead vocalist/guitarist, Seiji Fukuda (Setagaya, Tokyo) plays Keyboards & Synth, Yukako Ishii (Kanagawa, Japan) plays Bass with Hiroki Murakami (Saitama, Japan) on drums.The band first began to take shape in 2004 when Andy MacKinlay began to host weekly Jam sessions around central Tokyo to cater for improvisational musicians. Playing rock covers & funk classics of a weekend at the reasonable-paying gaijin pubs around Shibuya & Roppongi, they caught the ear of Hip-Hop & J-Pop producer J★STILLTON (Doloop) who brought Osaka J-Host band "ACQUA" to the top of the Japan Oricon single charts back in 2006. The affiliation resulted in the self-funded Mini-LP "Whose The Clown?* released July 2008 on 1000 copies pressing. KINLAY Band still hosts monthly Jam Session for musicians and vocalists at What The Dickens in Ebisu the first Tuesday every month.Find out more at their official website
Their excellent Mini Album "Whose the clown?" is on sale online now.
Their new album Golden Zero is soon to be released and features their "No Time To Wait". See on YouTube now!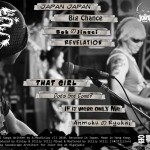 KINLAY new album out on May 28th-新しいアルバム5月28日に発売!
Kinlayはとっても国際的なバンドだ、イギリス(Manchester)出身Andrew Kinlay2004年に立ち上げて今4メンバーバンドになってる。しかも音楽にはいろんなスタイルが入って、フンック、ロックとレゲエは良い感じであわせてる。おかげで聴きやすくとユニックなサウンドがある。毎月第一の火曜日に恵比寿のパブ WhattheDicken'sで ジャムセッションライブも行ってるのでお勧め。 CDミニアルバム"Whose the clown?"もオンラインで発売中