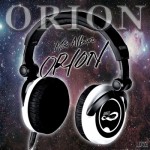 Rap and Vocal unit ORION is a 3 member unit based in Japan that successfully blends Pop, Hip Hop and Electro in their very own unique sound.
They are currently working their way around the Tokyo area and on Nov.27 2010 released their first self-titled mini album "ORION"
Listen to and buy their first release here: http://oriongaku.bandcamp.com/
You can also find out new information from their official blog or their Facebook Page
Be sure to check this new and talented group soon!
….
ラップ&ボーカルの3人からなるユニット『ORION』! POPS、HIPHOP、ELECTRO系グループとして、都内を中心に活動開始!11月27日この新ユニットORIONのNEWアルバムが早くもリリ~~~ス!!ここでお得情報。このNEWアルバムは -> http://oriongaku.bandcamp.com/ で聞けてしかも即購入可能!彼らの新情報はこちらー> http://orion-gaku.blogspot.com/