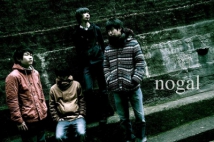 4 man rock band nogal was formed in 2010 by the band's original members Fujita, Tanaka and Takahashi.
Since then they have participated in various live events and had their demo featured on radio.
Based in the old Japanese capital of Kyoto, they are quickly showing that Tokyo doesn't have all the good rock music in Japan.
With an emotional sound and the haunting vocals of their lead singer, they are definitely a band to watch out for.
Check out their music online here
……………
nogal
人間味のあふれるエモーショナルなサウンドに、ハイトーンながらもストレートに心に響いてくるボーカルの絡み
京都発エモ-ショナルバンドである
彼らの音楽オンラインでチェックー>こちらに
Bio
2010年2月に藤田、田中、高橋の3人で結成。曲作り中、歌えるやつを求め大学の先輩である手塚を迎え、同年3月に京都WHOOPEE'Sにて初ブッキングライブを行う。
2010年12月には初企画「seize an opportunity」を京都ウーピーズで開催!
2011年4月には、大阪新神楽と堺club massiveとの共同企画「MIDOUSUJI LINE SESSIONS Vol.12.13を新神楽とmassiveの二日間に出演。
2011年5月には2回目となる企画「seize an
opportunity vol.2」を開催。
平日ながら盛況に終わる.
2011年7月には、同世代の地元バンドfogと共同で
新世界リチウムのツアー京都編を共同企画を開催!
2011年10月に2枚目の新音源発表
2011年10月29日エフエム京都のkyoto music shelfにnogalの2nd demoから
Rainをかけていただきました。
2011年10月31日付け audioleaf総合週間ランキングに入る。
2012年5月京都のバンドシーンを盛り上げるべくすべて京都バンドで4回目の企画を京都GROWLYで開催。