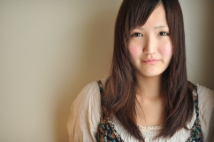 Singer songrwriter MOMO is a young artist moving making her way on the Japanese Indies music scene.
The Kanagawa native began with taking ballet and music lessons in school. She is currently doing live gigs in and around the Tokyo area. Including an appearance at major live house Zepp Tokyo.
MOMO  released her 2nd mini-album "Sunao" (Acceptance), which can be bought at her live gigs.
Be sure to check out this young talent soon.
……
神奈川県出身。1992年3月3日生まれ。20歳。O型。
小さい頃からピアノを習い、高校生時代には昭和音楽大学附属音楽バレエ教室でポピュラーボーカルのレッスンをしながら、高校3年生の頃より作詞作曲を始める。高校卒業とともに、本格的にピアノ弾き語りにて、都内や神奈川県でLIVE活動を行う。
2011年、学生運動主催による【100万人の耳に突込む音楽フェス 東京天狗 弾き語り部門 東京予選】にて、会場の投票により優勝。2012年3月29日、Zepp Tokyoにて本選出場決定となる。
また、2011年11月25日には初のワンマンライブと初の10曲入りアルバム【いま、伝えたいこと】を自主制作にてリリース。LIVEやストリートで販売、2012年3月2日にも80名ほどの観客を呼び、ワンマンライブを行う。
独特の声と、歌唱力、そして、本人のおとなしいキャラとは対照的に、10代や20代前半女性の、恋愛に対する気持ちを、男性が引いてしまいそうなほど、あるいは飲み込まれそうな程、率直に描いた詩と、わかりやすいメロディーが魅力。2012年6月16日には初の札幌でのLIVEを行う。
MOMOの2ndミニアルバム「素直」6月2012年にリーリス、現在LIVE会場での限定販売となっております