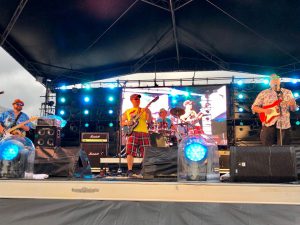 TOKYO BLAZIN' is a Reggae-Rock Band based in Tokyo, Japan which plays exclusively sunshine vibes and feel-good music!
TOKYO BLAZIN'は、東京メインで活動しているのレゲエ ロック バンドです、
…….
Andy Kinlay on Guitar & Lead Vocals, Tommy Jaime on Bass Guitar, Alberto Garcia on Lead Guitar and Mike Marrington on Drums – Someone comes up with an idea and then they write songs collectively in a series of Jam sessions all around Japan.
…….
Formerly as "Sans Danesin", They released two 4-track EPs "Heatstroke" (2016) and "Blazin'" (2017) before their rebranding to "Tokyo Blazin". They released their debut EP "Phoenix Rising" on the summer solstice in June 2022.
"Reggae Rock" (like Sublime, Magic! , early Bruno Mars, Rebelution, Tribal seeds, 311, etc)
…..
SOCIAL MEDIA
…..
YOUTUBE:
……
OTHERS:
Tokyo Blazin' – 4-track EP "Phoenix Rising"
……
Catch-them in Tokyo or invite them to a beach party near you soon !
TESTIMONIALS:
+81-90-8087-9937 (East Point Media)