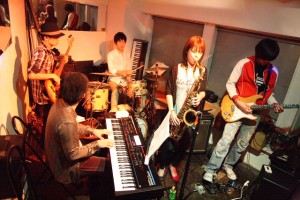 Formed in 2008, Yamzaki 29years is a Bossa Nova/Jazz style band performing around the Tokyo area.
Performing in mostly club venues, they have a very stylish yet upbeat sound .
They released their first mini-album "cask strength"  in 2011 and are working on their 2nd album now.
You can catch them performing at Yoyogi Barbara on 5/18 . A highly recommended show so check it out!
……
Yamazaki 29years
◆2008年5月結成
◆2009~現在・オリジナル曲で都内ライブハウス、クラブを中心に活動中
◆2011/8/13 1st mini album "cask strength"をリリース
◆2013/2/16, 5/18
LooP&Yamazaki 29years共催のイベント開催
ジャンル: お洒落なクラブ風音楽