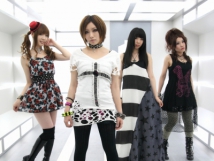 Drummist Miku was determined to put together an energetic "Girl's Band" and slowly began asking friends to join in.
After 2 years with a previous band she amended her image and decided to focus on forming a Cool Woman's Rock Band.
And achieved that goal in Jan. 2011 with the band CREA who released their first album "LINK" this year and is available via TowerRecords, Disk Union and HMV online shops.
…………
ボーカルNaki、ギターAiko、ベースAnna、ドラムMiku、からなる、ガールズバンド! DrumsのMikuが「元気なガールズバンドを作りたい!」という趣旨のもと、昔からの友人に
少しずつ声をかけていき、前身バンドで2年ほど活動していたが、「プロで通用する、大人っぽくかっこいい女性ロックバンド」をめざし方向性を変え、2011年1月1日より、バンド
名を『CREA』に改名。Naki、Aiko、Mikuで再始動。2011年6月19日 Bass Annaが加入し、同年7月からCREAとして本格的に活動開始しました。