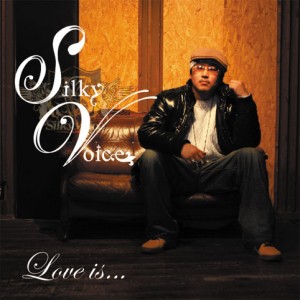 This young man at the age of 19, became so enchanted and inspired by American soul singer "Joe" he began working as a solo artist under the name SHIGE. In 2003, he and singer KOH formed the R&B duo Silky Voice. Together they wrote and arranged over 20 original songs in rapid succession.

They focused on making melodic, easy to listen to music which would appeal to a wide range of people. Their efforts paid off, when their self-produced album "Memory" sold over 2000 CDs in 6 months. In 2006 they toured the Japanese southern island of Kyushu with DJ HARA (at the time World #2 International Turntabilist) and DJ HIROKI. Silky Voice then went on to win big at the MIC Champion Carnival. In 2007 KOH left the group and Shige took on the mantle of Silky Voice as a solo artist. In 2008 and 2009 he has been working hard and his music has begun to spread into the Tokyo area, recently making an appearance on the cable channel Sky Perfect TV.

His new album "Love Is…" is on sale now!

It can be found on Amazon.co.jp. Click this link or on the picture above.

Check him out!
Silky Voiceのアルバム"Love is…"今発売中 このリンクや上の写真にクリックをしてみてくれ
19歳の時にアメリカのSinger「Joe」に魅せられソロシンガーSHIGEとしての活動を始める。2003年にSinger KOHと共にR&BデュオSilky Voiceを結成し、急速にオリジナル楽曲20曲以上を制作。メロディ重視の聴きやすい楽曲は幅広い層からの支持を 得て、Self Produceアルバム「Memory」は半年で2000枚以上を売り上げる。2006年にはDJ HARA(ITF世界2位)、DJ HIROKI(DMC日本代表)らと共に九州ツアーを決行。12月に開催された「MIC CHAMPION CARNIVAL」では圧倒的大差で優勝。 2007年にKOHの脱退により再びソロとして新生Silky Voiceの活動をスタートする。
2008・2009年には、活動拠点を関東にも広げ、スカパー、TVでの地上波、初ON AIR!!