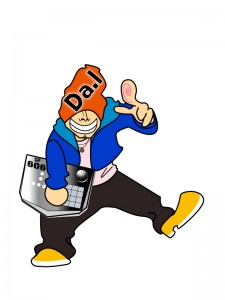 Hip Hop MC and trackmaker Da.I began learning his craft at the age of 20 via CDs and youtube. His influences include soul, jazz, classical music and he uses those genres in various forms within the music and beats he creates.
He eventually formed the Hip Hop Twinbi in 2007 and went on to release the demo album "Don't Stop" in 2008.
Da.I went solo in 2009 and has gone on to release his music independently and is working on a new project for summer 2010. Check out the fresh beats of this young artist.
世界文化遺産「姫路城」がある街、姫路市。そこに住むトラックメーカー/MCの「Da.I(ダ アイ)」は、20歳の時、youtubeやCDからトラックメイキングを独学で学ぶ。
Jazz,soul.ラテン,Gamemusic,Pops,クラシックなんでもかんでもネタに使ってしまう雑食が故、メロディアスなものから変態的なビートまでビートの幅はかなり広い。
シンセサイザーとサンプリングを融合させた独自のサウンドで、さらなる「オリジナル」を確立するために日々精進中。「どんなネタでも絶対に曲を作る」、がモットー。
地元、「姫路」の同級生であるMCの「芸術歌(ゲイジツカ)」とHiphopユニット「ツインビー」を2007年結成。そこでMCとトラックメーカーを担い翌年、2008年に、
日本を沸かせたMIXCD SEEDA&DJ ISSO[Concrete Green]シリーズのVol.8に楽曲を2曲提供。
同じく、2009年初頭にVol.10で1曲提供。ビートメイク歴1年すぎで脚光を浴び始める。「ツインビー」として、Demo Album[Don't Stop]を2008年に製作、2009年2月、自主制作EP [2枚目]をリリース。
2010年、方向性の違いでツインビーとしての活動を停止するが、Da.IソロとしてProject[Remake Top Chart Song]を開始する。2009年度の某ランキング会社の月間CDセールスランキング1位の楽曲をサンプリングしてビートを作り、
その楽曲のみで無料のアルバムを一枚作るという内容。客演に地元姫路のMCをメインに迎え、現在2010年夏のリリース向けて製作中。
トラック製作依頼も受け付けています。
d_a_i_s_u_k_e127@yahoo.co.jpまで、国内国外問わずメールどうぞー。
楽曲提供作品
2008年 ツインビーDemo Album[Don't Stop]
2008年 SEEDA&DJ ISSO[Concrete Green vol.7] 14. YUSK/My Style Is…,18. ツインビー/DO_RE_ME_
2009年 ツインビー EP[二枚目]
2009年 SEEDA&DJ ISSO[Concrete Green vol.10] 11.ツインビー / 二枚目
2010年 Jishow 1st Album[Rapper'z High] 5曲提供