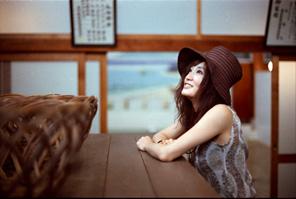 Pianist and singer song-writer C-na began learning piano from her father at a young age. In her own words she "hated" it and preferred playing. Despite this she continued going to lessons. She later became interested in percussion and stepped away from piano for a time. In fact she was sure after college she would never play piano again. That is until one Christmas when she needed to play the piano one more time and fell in love with the song she had to play. She had re-discovered piano music and thus her true music journey began.
C-na began playing with bands and finding her own style.
She released her first album "TANGRAM" in 2009.  She also plays with other bands, including the jazz influenced Momi-na .
With a light, fun and jazzy pop sound, C-na is sure to make waves here in the Japan indie scene.
4歳。父からピアノを習う。即父を越える(笑)。でも遊ぶ方が楽しい。
いやいやイヤイヤ続ける。なんとかレッスンに毎週通う。
しかし吹奏楽と出会い打楽器に目覚める。打楽器に打ち込む。
ひたすら基礎打ち練習の日々。ピアノは忘却の彼方。大学でも打楽器の日々。
さらにひたすら打楽器。そして興味はマリンバへ。ピアノから一層離れる。
ピアノ苦手意識増殖。大学を卒業と同時に、もう二度とやることもないっ!と
潔くピアノを処分。
しかし、とあるクリスマスにどうしてもピアノを弾かねばならない機会が出来る。
やむなく楽譜を買う。なかなかステキな編曲で気に入る。ふと巻末を読む。
現師匠稲森康利の名前をはじめて知る。会いたくなる。。。。。。会いに行く。
師匠のJAZZピアノがステキすぎてびっくり。ピアノってすばらしい!(単純)
そう思ったが吉日!ピアノを何とか買い直す。懐が相当寒くなる。
・・・んが、このころ、バンドで鍵盤を弾く機会を頂く。音楽が繋がりを生む。
素晴らしい音楽家達と出会う。。。沢山の刺激を貰う。そして、、、
今のシーナアキコが居ます
現在、ファストソロアルバム「TANGRAM」発売中!
Dr.モミーBa.チャリケンとトリオ『Momi-na』を組み、精力的にも活動中。