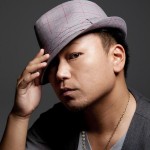 Soulful vocalist AIJ (pronounced AiJee) is a bi-lingual singer-songwriter with a foundation in Gospel.
He has done  backup vocals and rap for various big name artists in Japan including Soulja, Mye, Cradle and more.  He has also worked as a producer and composer.
He has since struck out on his own and is steadily building popularity with sweet, heartwarming vocals. Together with the musical influences of  R&B, SOUL, FUNK and ROCK , AIJ is making original and inspirational music.
Check out his first mini album "AIJ -All in Joy" online now!
…..
ゴスペルクワイヤー出身の本格派バイリンガルシンガー
元Do As InfinityのD.A.Iのプロジェクト「Area404」参加を始め、SoulJa, Mye, Cradle, Red Pepper Girlsなど、数々のアーティストの楽曲にてバックコーラスやラップ/MCとして参加。またアメリカンスクールで培った英語を活かし、英詩提供やレコーディング時の英語ディレクションも行う。
サウンドプロデューサー和田春とのプロデュースユニット"OVATION"として楽曲プロデュースなど裏方の経歴も持つ、次世代シンガーソングライター「AIJ(アイジ)」。
その優しくもスィートなヴォイスは幅広い層から人気を得ているハートフルヴォイス。
学生時代より好きだったR&B, SOUL, FUNK, ROCKっと、ジャンルレスに様々な要素をミックスしAIJ風に作り上げられるPOPなミュージック。