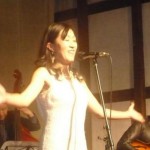 Jazz vocalist MIKA began her promising career in 2004.  That same year she released her first album "That Old Feeling" through indies label Ireleans. The album featured classic jazz standard songs sung in duets with Danny Hartigan.
In 2008 she appeared in the Collaboration album "Fukuro Mellow~J-Bossa Winter Lounge~" by Colega Bossa Club which was produced by Japanese bossa nova legend Lisa Ono. She sings on 4 tracks in the album. In the same year she went on to win the Groove Jazz Vocal contest in Japan.
She has gone on to work with various artists as a vocalist while also doing songs for TV commercials.
With her smooth voice and lyric delivery, this a musician to keep watching.
宮城県栗原市生まれ
2004年ジャズボーカリストとして、活動開始。
同年9月 ブルースハーピスト 八木のぶお氏をゲストに迎え、榊原光裕氏とのフィーチャーで制作されたファーストアルバム「That old feeling」をインディーズレーベル「アイルリンズ」よりリリース。
オールド・ジャズのスタンダードをダニー・ハーティガンとのデュエットで歌い上げ好評を博す。
2008 年11月、小野リサのプロデュースでも知られる日本でのボサノバ音楽第1人者 吉田和雄氏プロデュースによるコンピレーションアルバム「懐 Mellow ~J-Bossa Winter Lounge~by Colega Bossa Club(コレガ・ボッサ・クラブ)」(ユニバーサルミュージック)にボーカル参加、12トラック中4トラックを担当。第3回グルーヴィジャズヴォーカル コンテスト グランプリ受賞(2008年11月)。
2009年8月、ウーゴ・ファットルーソ&ヤヒロトモヒロ仙台公演ゲストボーカリストとして参加。 ミルトンナシメントグループでも監督、ピアニストを果たしたウーゴファットルーソとのデュオで好評を博す。ライブスポット、CMソング歌手として東北を拠点に活動展開中。
。