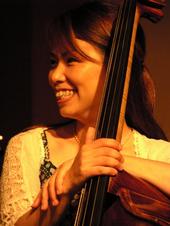 Bassist and Osaka native Tomomi Azuma began playing the Electric Bass at the age of 19. Around the same time she became interested in Black music and eventually joined a Blues band.  Since 1995 she has played in jam sessions with a number of accomplished Bluesmen in Japan.
In 2001 she began focusing more on Jazz and since then has performed in a support position with various bands as well as forming her own units including the Tomomi Azuma Trio which released their first album "Hand" in June of 2010.
Check out the cool of this excellent Bassist.
…..
1972年12月27日生まれ。大阪出身。19歳でエレキベースを初める。当時からブラックミュージックに傾倒し数々のブルースバンドに参加。それをきっかけに1995年頃から現在に至るまで、妹尾隆一郎氏や塩次伸二氏、島田和夫氏、リクオ氏などの大御所ブルースマンやDr.Kyon氏(Ex.ボガンボス)とセッションを重ねる。島田和夫氏とは、現在FOUR ACESで共演中。
1998年頃から1年ほど岩田晶氏に師事。2001年頃からはジャズに傾倒しコントラバスも弾き始め自己のジャズユニットやバンド、セッションライブやサポートなどで関西のジャズライブハウスやカフェにてライブ活動を展開している。ジャズ、ブラジル音楽、ブルース、ソウル、ゴスペル、ロック、ポップスなど幅広いジャンルで活躍しており、
ライブ活動の傍らいろいろなレコーディングにも参加している。
2006年よりコントラバスのみのバンドで精力的に活動。
2007年頃からは作曲やアレンジも手掛け、2008年より自己のリーダーバンド
「THE TOMOMI AZUMA BAND」「THE TOMOMI AZUMA TRIO」を立ち上げ、
ジャンルの壁を取り払ったサウンド作りを目標に掲げ精力的に製作、ライブ活動を展開している。
2009年12月から約10ヶ月、荒崎英一郎氏にアレンジと作曲を師事。
2010年6月23日初のリーダーアルバム、THE TOMOMI AZUMA TRIO "HAND"を発売。
ジャンルにとらわれない幅広い音楽性、安定した男勝りのベースワークには、
定評があり注目のベーシストである。