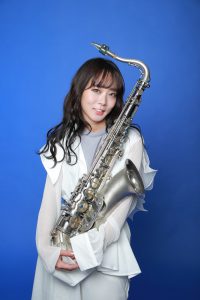 New album "Delight" coming 4/3
新アルバム 「Delight」4月3日リリース
Born in Asahikawa, Hokkaido. Miku Yonezawa  started playing the tenor saxophone at the age of 8, joined a big band at the age of 11, and started playing jazz.
She currently leads her own live shows,  performing with top domestic musicians in Japan with over 100 shows a year.
Her 3rd album, released  on May 4, 2018, was the number one bestseller in the jazz section of Amazon Japan for 28 days, and was the top album in the iTunes Store Jazz. The jazz ballad album "Dawning Blue" released in January 2019 set a big record as the top seller for 93 days on the Amazon chart. She made her Major debut with "Exotic Gravity" from King Records in May 2019.
"Dawning Blue" and "Exotic Gravity" double won Album Of The Year in the 2019 JAZZ JAPAN AWARD New Star category. Also, in recent years, it has been highly popular overseas, such as being frequently ranked high on overseas jazz charts.
Appearing at the Cotton Club in April 2021. In July, they participated in the Billboard tour as OneYoung World Presents Jazz Avengers centered on Senri Kawaguchi.
In addition her first hall concert in 2022 was a major success and  live performance will be broadcast on NHK General TV "Hirumae Hot".
Currently, s he is also active as a radio personality and D'Addario Woodwinds Japanese Authorized Artist
………..
北海道旭川市出身。 8歳よりテナーサックスを始め、11歳でビッグバンドに入り ジャズを始める。
自らのリーダーライブは、青柳誠、岡本洋、岡田治郎、納浩一、波多江健、川口千里、則竹裕之など、国内のトップミュージシャン との共演を重ね、年間 100本以上にも及ぶ。
2018年5月4日に発売した 3rd AlbumはAmazon 日本のジャズ部門28日間ベストセラー1 位、iTunes Store Jazzのトップアルバムを記録。2019 年1月リリースのジャズバラードアルバム「Dawning Blue」はAmazon同チャート93日間のトップセラー1位という大記録を樹立。2019年5月キングレコードより「ExoticGravity」でメジャーデビュー。
「Dawning Blue」「Exotic Gravity」は2019年JAZZ JAPAN AWARD New Star部門にてAlbum Of The Yearをダブル受賞。また、海外のジャズチャートでも上位にたびたびランキングされるなど 近年は海外での人気も高い。
2021年4月にはCotton Clubに出演。7月には川口千里を中心としたOneYoung World Presents Jazz Avengersとしてビルボードツアーにも参加。
2022年には初のホールコンサートを成功させるほか、
NHK総合テレビ「ひるまえほっと」でもライブの模様が放映される。
現在ラジオのパーソナリティとしても活躍中。
D'Addario Woodwinds 日本公認アーティスト
ーyonezawamiku.comからー