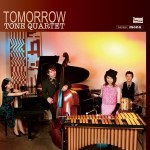 Official Site-new (English and Japanese)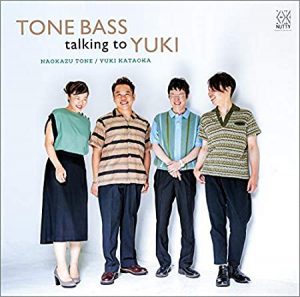 *Newest album: "TONE BASS Talking to Yuki"  available now
Bassist Naokazu Tone leads this four member jazz band which also features Yukari Sekiya on piano and Tomoko Kageyama on vibraphone. Together they form a cool blend of fusion jazz with a unique sound.
Their first album "TOMORROW" was released in 2009. On the album leader Tone helps brings together the rich music personalities of each artist to form a sound very similar to the Atlantic Records jazz albums of the 1960s.
They are currently performing around the Kansai area of Japan, including Osaka.
Their album "TOMORROW" is available through online stores:
……
『 TONE QUARTET 』
BASSIST 刀祢直和をリーダーに2006年12月に結成。
活動をJAZZシーンだけでなく,CLUB,ROCKシーンにも広げ、
2007年 ミニアルバム 『 Flamenco Sketches 』リリース
東京、関東方面にも定期的に活動開始する。
2009年初のフルアルバム
『TOMORROW 』をThousand Days Record からリリース
TVCM / ラジオのテーマ曲//
ラジオBGM // 劇団公演//DVD,等に数々の曲が採用され
る。
2010年からギターが加わり
『TONE QUARTET+1』の5人。
もしくはGuitar version のカルテットでも活動。
関東-北陸-東海-関西-四国-沖縄 ,
数々ツアーを成功させ,年間に数十本のライブをこ
なし、
自己のイベント『JAZZ COCKTAIL 』を始める等、
活動はとどまる事を知らない。
リーダー刀祢直和がこだわり続けてきた音楽性を表現するため、 ヴィンテージ機材による録音を試み、完成したアルバムは 個性豊かな4人の音楽性と融合してまるで 1960年代のアトランティックレコードを彷彿させるジャズアルバムへと 昇華させることに成功した。 (録音はGRAND-FROG STUDIOにてMr.PAN氏( The NEAT BEATS )による)
TONE QUARTET NEW ALBUM "TOMORROW" NOW ON SALE
TONE QUARTET (トーンカルテット) THD-1903  2100円(税込) プロリニア株式会社 サウザンドデイズレコーズ本部 ToneQuartet 2枚目のCD " TOMORROW "が発売されました。 Thousand Days Recordsからのリリースとなります