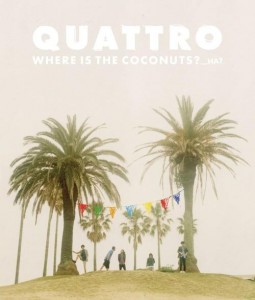 QUATTRO is a 4 member indies rock band based in Japan. Originally formed in 2005 as a college band, their sound has continued to evolve with influences from country, blues, and pop-rock music.
Their most recent major releases include "Square The Circle" from 2008 and their latest CD "Where is the coconut? …Ha?" released in April 2010. Both releases are available at major music stores in Japan and on itunes
They have made appearances on MTV Japan, at major music stores and even had a chance to perform at the Fuji Rock Festival. They are currently on a National tour in Japan.
Check out this coolly unique group soon.