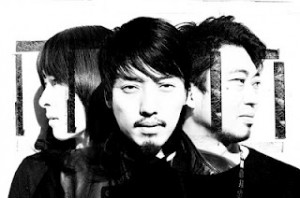 Lo-Fi was formed by 5(Go) in 2009. Later that year they release their 1st original full album Stereo Soul. 5 sings in a rap-like soulful style rooted in his American background, and Yosh's beats has a free jazz like feel mixed with a contrasting hip-hop influenced vibe. Nori's keyboard playing has influences of latin jazz and classical music mixed with modern dance music that can be heard in her solo albums released in Japan during her solo career.
Their original album was ranked 2nd in Japan on the iTunes charts, and they have a significant following in Japan also being chosen to be the background music for Surfing Life magazine the following summer. In 2011 they did a successful tour in the UK and the Netherlands. They are also planning another tour in 2012 to compliment their new release.
Their latest album "Jazzy Groove", released  in early in 2012, is a grooving cover album featuring songs from The Roots, Jamiroquai and more. Check out more info here. Their first album "Stereo Soul" is available on Amazon and iTunes  US so definitely check out this band soon.
……….
デジタルでHi-Fiな音楽が簡単に手に入る今こそ、オーガニックなサウンド/音質/スタイル/個性にこだわったLo-Fi なバンドを目指すことを掲げて、2009年に活動を開始。5(Vo.)のリズミカルなRAPと歌、Yosh(Dr.)のGroovyなリズム、 Nori(Key.)の色鮮やかな鍵盤のハーモニー、この3人が交わる時、心地良く独特な世界観があるサウンドが生まれる。
2009年初頭にリリースしたMini Album「Low-Fidelity-FP」はiTunes Jazz Albumのランキングで2位を獲得。続いて 同年11月にはAlbum「Stereo Soul」をリリース。国内だけでなく海外も含む国際的なツアーを決行し成功させる。 同Albumは"Surfing LIfe Magazine"等のメディアでも大きく取り上げられ、iTunesスタッフのヘビーロテーション・ アルバムとしても選出。
2011年にはLondonでのイベント出演や、オランダのデザインウィークイベントでのギャラリー を会場としたライブ・イベントにも出演。これらの反響によって2012年はヨーロッパ/USツアー等拡大予定。
現在新アルバム「Jazzy Groove」をリリース 洋楽のヒット曲をJazzyかつMellowにアレンジ・カバー! 心地良いGROOVEが、ゆったりと流れる極上の空間を演出。 カフェ、バー、ドライブから、マイルームetc、くつろぎの空間 に最適の"口ずさめるBGM"をコンセプトとしたCD。JAZZY HIPHOP、SOUL、FUNK、R&B、BOSSA、等が好きな人 にオススメの一枚です。 イベント「SUNSET LOUNGE -Tribute to Nujabes-」でAurora Acoustic(Kaoru Inoue×DSK)、Calm等とも共演し、ワールド ワイドな評価を受けている"Lo-Fi"が、全曲のアレンジ~演奏 ~歌のすべてを手掛けている。