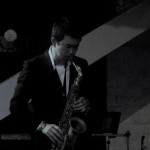 Born in 1961, Kobe native and Saxophonist Sawai Makoto is a veteran of the music world.
He has studied under cool jazz artists like Ozone Hiroshi, Hiro Shiotani and Hidefumi Toki.
He continues to produce good music regardless of genre as he works around the Kansai (Western) area
of Japan. Check out this talented veteran soon.
….
1961.9.10 生まれ 神戸市在住
小曽根啓、塩谷博之、土岐英史氏に師事
ジャンルを 問わず 楽曲も提供
関西を中心に活動中