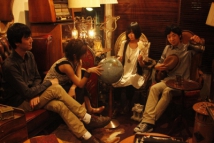 In Spring 2011 Kojima (Bass), Tanaka (Keyb) and Fukuhara (Dru) often jammed together as part of their music circle in University. Vocalist Kaoru, from another University, later joined them and crossover pop band Lillith Abi was born.
They slowly began doing live events then released their first mini album "Seeing Pink Elephants" in 2012. In the same year they released their 2nd album "GREAT MOTHER" and most recently their 3rd album "hiatus" was released in December of 2013.
With a complex fusion progressive rock sound enhanced by the flirty vocals of Kaoru, Lillith Abi is band that looks ready to break out.
Check their latest albums on itunes or their songs on YouTube now!
……..
2011年春、大学の音楽サークルの先輩・後輩関係にあった、こじま(Ba)、田中(Key)、福原(Dr)がセッションを通じてバンドを結成。程なくして、こじまと交流のあった同大学・他サークルの薫(Vo)が加入。Crossover popsバンド『Lilith Abi』として活動開始。
こじまの作り出す複雑なコード進行や変拍子を含む楽曲に、各メンバーが悪戦苦闘しながらも2011年10月に初LIVEを決行。以降現在
まで約月1ペースでLIVEを行っている。また楽曲制作を勢力的に行っており、
2012年1月に1st mini album『Seeing Pink Elephants』、同年12月に2nd album『GREAT MOTHER』を
発表し、2013年12月、3rd album『hiatus』を発表。現在までに3枚のアルバムをリリースしている。
バンド名の由来はヘブライ語の"リリス(悪魔)よ、去れ"から。子守唄(lullaby)の語源となっている。
また作品の中ではLilith(悪魔)を"負のスパイラル"と位置付けており、そこからの脱出、息(生き)苦し
さからの解放を願い、個人を対象とした「肯定」「救済」をテーマとしている。
サウンド面ではjazz・fusion・progressive rock 等の影響を受け、多様な展開に即興性を取り入れた楽曲を構築している。
一方で一筋縄では行かない複雑なサウンドをコンセプトとしながらも、Vocal薫のコケティッシュな
歌唱が、楽曲を通してあくまで"メロディアスな歌物"であると言う事に対する芯を担っている。