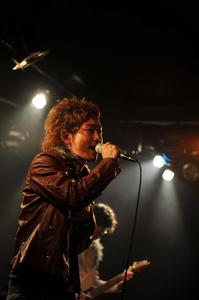 Kanagawa prefecture native KOHEI started his music career early,
performing in a musical for Culture Day at his Junior High School.
He found that he enjoyed singing in front of others and later joined
his school's Acapella group.
His next step was joining the indies band unit Dyads as their vocalist.
After doing many live shows together, the group called it quits in March of 2007.
KOHEI is now singing solo at various live houses and street events in the Tokyo and Kanagawa areas.
His latest single "Dreaming" is available online now!
中学校の文化祭でミュージカルの主役に抜擢され、
人前で歌う事の楽しさを知る。
学生時代からバンドとアカペラグループで
ヴォーカリストとして活躍。
その後、アカペラグループ「スメルマン」に加入し、
本格的な活動を開始。
ヴォーカリストとしての新たな可能性を探るべく、
スメルマンを脱退し、
アコースティックユニット「Dyads」を結成。
数多くのライブ・イベントで活躍するも、
惜しまれつつ2007年3月16日をもってDyadsを解散。
現在、ソロヴォーカリスト"KOHEI"としての
音楽をより多くの人に届けるべく、
都内のライブハウス・ストリートで活動中。
今彼の新しいシングル"Dreaming"オンラインで発売中