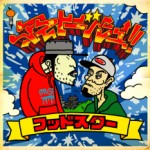 Hip Hop duo Astonish was originally formed in 2001 when they started performing around the Western Kansai areas of Japan. In 2007  they released their first album "HOME SICK" and went on to work with various artists on the indies hip hop scene including Shing02 and BASIL&ZIMBACK. They have also competed in various MC Battles around their hometown of Wakayama.
In their words, they always try to write music with a unique message and language that is easy to comprehend. With that and a grooving flow Astonish continues to build themselves up in the Japanese Hip Hop scene.
Their new album "HOOD STAR" released in Dec 2010 is available now at online shops like Amazon and HMV.
…….
前作「Check The Rhyme.EP」から約1年3ヶ月。Represent和歌山"名も無い市"アストニッシュが2ndALBUM「HOOD STAR」を引っ提げて帰ってきた!!
毎日の生活の中で、何気に感じたことがそのまま曲のテーマになる。どこにでもあるような日常が、アストニッシュというフィルターを通すことにより、どこにも ないオリジナルなメッセージになる。かといって、難しい言葉は一切使わず、わかりやすい言葉で表現されるアストニッシュの音楽には、どこか懐かしさや親し みを感じるはず。リスナーは、聴いているだけで頭の中に景色が浮かび、時にはクスっと笑ってしまうかも。ドープなのにキャッチー、キャッチーなのにドー プ。
一日の目覚めを意味するイントロ「SUNRISE」でALBUMは幕を開け、出会いと別れについて歌う「これも何かの縁」、これぞア ストニッシュ!っと言わんばかりのALBUMリード曲「口」、1stALBUM「STEP IN TO ア WORLD」をリリースした大阪泉州の盟友、アラデジャムスタを迎えての「GIMME DA PROPS」、現代社会の矛盾について疑問を投げかける「RULE」、前作EPから引き続き参加となる、COCOLO BLANDが生んだ奇跡のユニット、BASI&ZIMBACKとの合作「ノンフィクション作家pt.2」、地元和歌山御坊を中心に活動する CREW「紀乃國」より、数々のMC BATTLEでも好成績を残す、SURRYが参加した「HOMIES」、処女作となるリーダーのソロ曲「DO IT」、家に帰って眠るまでを描く「SLEEP」、そしてアウトロ「ZZzz…」でゆっくりと眠りにつく。朝起きて夜眠るまでの出来事を詰め込んだ、全 16曲を収録。平成22年12月22日、アストニッシュの2nd ALBUM「HOOD STAR」が視聴覚教室より全国発売!!