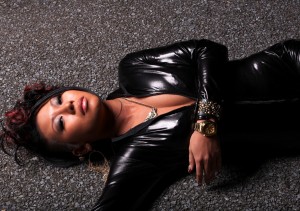 The glamorous Mami Sue has been turning heads with her up beat sexy performance and powerful soulful voice. Born in Japan as an only child she was influenced by her mother (a drummer) while coming up. It wasn't long before she too was taking an interest in music and started playing the piano at the age of 3. By the age of 5 she was already well versed in both ballet and solfege, and by the age of 7 had composed her first song, written for her mother.
In her teenage years Mami Sue became interested in the ever so popular reggae music scene, and at the age of 17 became a reggae dancer, performing quite often in and around the Osaka area. It wasn't until 2005 where she gathered up the courage to take her talent abroad to New York, where she started to gain experience as a singer/ song writer, at the same time performing live as a dancer and a singer. She even had appeared in a hand full of TV Shows, once again showing her gleaming talent as a performer, but now gaining international recognition.
Now, back to Japan and in the Tokyo area, Mami Sue plans to once again win over her fans with her sexy sassy attitude, and her strong soulful voice. Her singles are available now on bandcamp and her songs can be heard on Youtube, Myspace and more. Check out this rising star soon!
…….
岡山県で一人娘として生まれる。
ドラマーであった母親の影響を受けて育ち、3歳からピアノを、5歳からクラシックバレエ、ソルフェージュを習い始め、幼い頃からステージに立った。7歳の 時には既に母親の誕生日に作曲をしてプレゼントするなどもしていた。11歳の時、ピアノのコンクールで勝ち抜き、管弦楽団と共にリサイタルで演奏する機会 を得る。
幼少期から音楽とダンスの基礎を身につけた彼女は、17歳の時、大阪に移り住み、Reggae/R&B/Hip Hopの音楽に魅せられ、それまでとは違ったジャンルのダンスを学び、ダンサーとしてステージ活動を始める。
2005年、NYに移り住み、作詞、作曲、歌手活動を始める。異国の地で様々な人生経験を積みつつ、シンガー、ダンサー、振り付け師として、数々のTV showやMusic Video,ステージに参加する。
2009年末、帰国し上京。都内で活動中。
現在Mami_SueのシングルスはBandcampに発売中そして彼女の音楽YoutubeとMyspaceでも聴くことできますので必ずチェック!