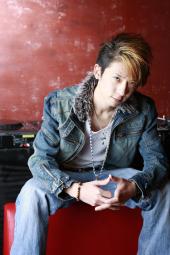 South Hip-hop artist Singer/rapper Birthplace:Honolulu Hawaii raised:Honolulu Hawaii Now residing:Tokyo Japan 【BLESS a.k.a Kalei】 Is a southern style rapper/singer. Fresh off the streets of Honolulu Hawaii BLESS is without a shadow of doubt One of the most up coming hottest artists today. Having released over 5 titles and sold of a total of over 10,000 copies without any distribution!
Currently BLESS is residing in Tokyo Japan and is continuing to spread the warmth of Hawaii and the soul of Aloha through his original Hip-hop/reggae style music. Having high respect for Lil Wayne, Young Jeezy, T.I. BLESS Starts off becoming one of the faces of southern hip-hop in the Underground and major scenes in Japan. Now in the year 2010 BLESS signs with a International Management Production in Japan, 【ZODIA'C INTERNATIONAL】。
With a fresh start in Japan BLESS is releasing his 4th mini album 【NO RETURN】、Currently BLESS continues to give fans what they want to hear and looks forward to see a change in the music industry. BLESS is constantly getting mail and offers from all over and welcomes any label who wants to sign him as an artist on there roster.
【Profile・プロフィル】 プロフィール: 芸能界:アメリカ、ハワイ、日本入れて:7年 モデル: T&C(ハワイサーフブランド) ECKO(hip-hopブランド) FINEハワイ(サーフブランド) 音楽: SOUTH中心のMC・レゲエシンガー、バイリンガルラッパとして活動をする young.jeezyを尊敬しyoung.jeezyの後をおうように活動を始める。 2003年:ハワイのメジャーレーベル、PARADISE.PRODUCTIONSから本格デビュー(808CREW)のMCとしてデビュー 2003年:1rstシングル:Kokuaが1000枚(一種間で完売手売り) 2004年:1rstアルバム:Hawaiian Kine(5000枚完売手売り) 2004年:17歳で当時ハワイ国アーティスト新人賞広報に選ばれる。 2004年: その後又はプロデューサーとしても活動をし様々なアーティストをハワイでデビュー前まで生み出す:KAWENA、JERRY PITO JAVIER、他に20名をプロデュース 2005年:日本に引越し、名前をBLESSに変えて一からのスタートを切る。 2006年:レゲエアーティストとして日本での活動も始める。 2007年:品川PrinceステラーボールでDJ Kaori、ドネルジョンズと共演。 2008年6月:No Limit Souljahzを結成しHIP-HOPユニットとして渋谷で 活躍。 2009年:BLESS-MY HALEを手売りで1000枚を完売 2009年:MUSIC MASTERS JAPANから(A Wonder Bhoy from the land of the rising sun)Nakamura Shunsukeの応援ソングに参加し、CDリリース(外国)(2000枚)。Webサイトチェック!→MUSIC MASTERS JAPANホームページ:http://www.musicmastersjapan.com/WBRS_press.html 2009年:日本新外資系レコードレーベル:Southern Krunk Entertainmentの代表プロデューサーになる。 2009年:ZODIA'Cとマネージメント契約を結ぶ。