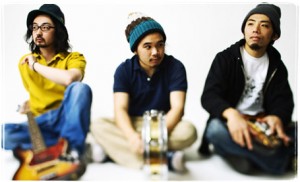 Ovall is a spiritual jazz/hip-hop band based in Tokyo. The band is led by Shingo Suzuki (bass/keyboard) whose recent solo album as trackmaker "The Abstract Truth" has been a worldwide success. In "The Abstract Truth", he collaborated with various international artists such as Hocus Pocus from France, Blu, and Moka Only.
Ovall's lineup also includes Shingo Sekiguchi (Guitar) and mabanua (Drums). Shingo Sekiguchi is a jazz guitarist whose solid plays can also be heard in his solo album "vusik". mabanua, himself also being a trackmaker, is the artist of the moment in Japanese hip-hop scene as his album "done already" featuring international figures such as AKIL the MC of Jurassic 5, Kev Brown and Eshe (Arrested Development) has caught the attention of heads not only in Japan but overseas.
With each member bringing unique musicianship and solid skill to the table, the band's approach to hip-hop with fusion of live instrumentals and sampling takes listeners to the world of "Absolute Mixture Music" as Shingo Suzuki calls the style of Ovall.
Their latest album "Dont Care Who Knows That" is available in various online shops now. Check out their website for more info.
……..
1st アルバム「The ABSTRACT TRUTH」が世界中で大ヒット、Yahoo!やMySpaceでも"2008年最も驚きの新人アーティスト" として取り上げられたトラックメーカー/ベーシストShingo Suzukiによるバンドプロジェクト,Ovall(オーバル)。同じくトラックメーカーとしても話題のドラマーmabanua、ジャズギタリストとしても活動する関口シンゴという3人のプレイヤーを中心に活動。それぞれのソロアルバムではジュラシック5(AKIL THE MC)、ホーカス・ポーカス、Blu、アレステッド・デヴェロップメント(Eshe)、モカ ・オンリーなどと共演、世界中のヒットチャートに顔を出し話題をさらう。
またバンド名義でのアルバムリリース前に朝霧JAM2009に出演、緊張感とピースフルな空気が共存するパフォーマンスで場の空気を一遍させオーディエンスから「今年のベストアクト!」という声が多数挙がった。Hocus Pocus、Wayna、Kenn Starr、Hanah、類家心平他世界中のアーティストが集結し出来上がった1stアルバムは英、仏でのリリースも決定!(featシンガー、ラッパーの豪華さのみならずメンバー自ら演奏しながら歌う曲も聴き所!)
サンプリングと生演奏のシームレスな融合で織り成す野太いグルーヴにカラフルなサウンドスパイスがブレンドされ浮かび上がるユニークな音像は聴く者を別次元へと誘う。進化するアブソリュート・ミクスチャーミュージック!次世代日本人バンドOvallに世界中から注目が集まる!
現在彼らのニューアルバム「Dont Care Who Knows That」いろんなオンラインショップに発売中!Ovallのサイト是非すぐにチェック