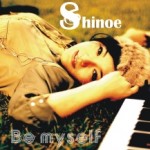 In the beginning vocalist Shinoe began studying classical piano at a young age. By college she had become interested in singing and began working with bands and vocal clubs in her school.
She later started  performing on stage at various parties and local events, which lead to radio, TV and newspaper appearances in her hometown.
Since then she has been to the US, where she continued her vocal studies under a Grammy nominated artist in New York and had a live performance in the Los Angeles area.
Her first full album "Be Myself" is available in online shops.
With a catching voice and cool tunes she is an up coming artist to check out soon.
**Shinoe's new album "New One" is set for release on Oct 27th
…….
幼少の頃クラシックピアノを始める。
大学生の時に歌う事に興味をもちはじめ、バンドや数々ヴォーカルグループに所属し、
各種パーティ、数々のイベントに出演し現在迄数多くのステージで
パフォーマンスを行う。
地元佐賀のラジオ、TV、新聞にも取り上げられる。
同時に数々のTVCM、ラジオCMボーカルも担当。
2006年より福岡市内の音楽学校、カルチャースクール等で
ヴォーカル講師をつとめる。
2008年五島音楽祭と福岡ビルボードにて、中西圭三氏のバックボーカルを担当。
2010年 NYへvocalizationを学ぶべく渡米。グラミーノミネート者や
著名人を育て上げた講師stacyに師事。
現地で様々なスタイルのセッションに参加、地元ミュージシャンと共に、
自らのライブ活動も行う。
今年チャリティコンサートで歌っていた際歌声が目に留まった事をきっかけに、
6月ロサンゼルスで、単独パフォーマンスを行う。
Shinoeのファストフルーアルバム「Be Myself」今オンラインショップで発売中
**Shinoeのニューアルバム"New One"は10月27日 2013にリーリス!
聴いたら彼女が感動的なヴォイスに夢中になるのでおすすめ