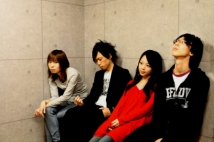 Tokyo based Pop-Rock group RETRO DROP was orginally formed in 2007 with members who deeply enjoy music.
With compositions that feature a great sense of melody as well as the clear and straight forward vocals of Naha, they have built a reputation for quality music among their peers. Music from their fourth album "Four Minds" was even featured on FM radio.
Definitely take a moment and check out their songs on their music Audioleaf page.
……….
2007年に東京で結成。
音楽を自然体で楽しむメンバー達から生まれた楽曲は、
メロディを大切にした演奏と、透明感のある歌声が特徴。
音楽関係者からも評価が高く、ライブ会場でのみ発売された
ファーストアルバム"Four minds"は、
初日に初回生産分を完売し、FMカワサキでも楽曲が紹介される反響を得る。
是非FOUR DROPのミューシックページをチェックしてみる