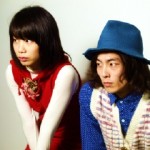 Mitsu (Honeydew in Japanese) is a boy/girl Pop Rock duo with a very unique style and sound. Main vocalist and former rock band singer Yuri Kitamura brings a powerful and soulful voice to the group while guitarist/vocalist Ryo Hashizume balances things out with a reverberating, clear sound.
Together they are creating music with impact while catching the ears of many. They are currently performing around the Tokyo area and their mini-albums Taste of Honey and Mitsu can be bought at their live gigs.
Those who hear them for the first time will be overwhelmed by the potential of this exciting young duo.
…….
とにもかくにも、唄モノの男女ユニットである。ただ決して普通ではない。
ロックバンドのヴォーカリストであった、メインVo木村(女)のパワフルでソウルフルな声と、シンガーソングライターであった、ギターVo橋詰(男)の伸びのある透き通った声。
一見するとはまりそうにない二つの声が創り出す音楽は、男女ユニット、いや唄モノユニットの歴史すらも覆すほど強烈なインパクトを持って観る者を圧倒する。
時にロックで、時にポップ。キャッチーでありマニアック。
誰がどう見たって唯一無二であり、もはや何が起こるかわからないステージに、観客は知らず知らずの内に引き込まれていく。
クセになること間違いなしの若手アーティストである。