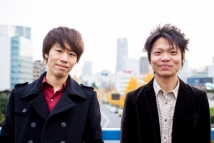 Nolph Lauren is a 2 piece original Jazz band working out of Japan and music featured on radio in England.
Yosuke Itabashi (Drums) and Ryosuke Nakajima (Keyboards) bring a great and vibrant sound to the genre.
Be sure check out their music on youtube and support this young up and coming duo.
Nolph Lauren(ノルフローレン)は、ドラムの板橋洋輔とキーボードの中島涼輔から構成される2ピースのインストジャズバンド。
日本とイギリスでのラジオ出演をメインに活動しています。とても鮮やかなサウンドを持ってるので是非彼らのYoutubeサイトチェックして
そして応援してみてくれ