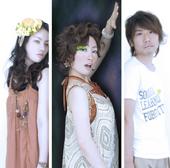 Myspace Page
*This group is no longer active musically
**Dot Rainbowは現在活動停止。。
The Japanese Pop unit Dot Rainbow (Yuka bs, Masaya Gt. and Micca  Vo.) originally met in 2004 as part of the same college activity circle. After discovering how well they got along together they began working on songs with a different kind of sound, and the group was born.
The interesting band name comes from the idea of different points or Dots of life and society (people, things, culture) and how they bridge together as a whole like a Rainbow. So, Dot Rainbow is not only their name but expresses to band's wish to be a connecting force with their music.
They have released several singles including their latest "Negai Mirai" and "MIJIKAE" which was used in a TV commercial in 2009. Both can be found on itunes. They are currently performing around the Tokyo area.Check out this exciting band soon!
2004年大学の音楽サークルで出会った3人がまだ誰も聞いた事のないようなポップな曲を創ろ うと意気投合して結成。
Dot Rainbowというバンド名はこの世の中の様々なDot(人、モ ノ、文化)をRainbow(架け橋)で繋げて行きたいという願いを込めて命名。
地元CMへの楽 曲提供や様々なイベント、野外フェス等その活動の範囲は多岐に渡る。
現在新しいシングル「願いミライ」と「ミジカエ」itunesで発売中!
μFM(FMカゴシマ)にて毎週金曜日15:30〜 『どっとこBrast!』on air中☆
田代さやか主演
映画『携帯小説家の愛』エンディングテーマ『LINK』
AKB48秋本才加主演
映画『聖白百合騎士団』エンディングテーマ『星砂』
SNAスカイネットアジア
東京〜鹿児島増便キャンペーンソング『砂時計』
我流布ラーメン
2008 CM with斉藤ふみ 『Breath』
Vハウス
2009 CMソング『ミツカエ』
他多数。