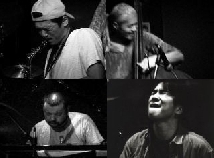 Formed in 1997, SUN SHIP is a Jazz band with a long history and eclectic sound.
Their fans include no only jazz enthusiasts but rock music fans and other various types of people.
Not surprising since their music often expresses a spirit unique to Japan but understandable to many.
Check out SUN SHIP's album "Hot Waltz" available internationally via CDBaby.
……..
1997年2月に結成。彼らの音楽は日本人の心を感じるジャズなのである。
日本人独特の男気や、湿った空気や、土や草、風、海、太陽のにおい、祈りの様だと表現した人もいる。
常に自己の音楽に真摯に向かい合い、問いかけ、そして自らを解放させるエネルギーはしばしば聞き手の心をも解放してしまう。ここには好きな音楽のジャンルとか、音楽歴やジャズの知識も、ジャズファン歴の長さも問題ではない。