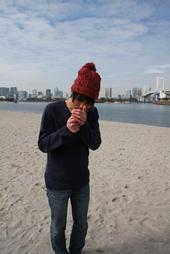 Young singer song-writer Yoshimura Hiraku has been following his own music path for awhile now. In 2005 he began making demo tapes and was eventually picked out by a local indie label.
After graduating High School in 2006 he began performing live regularly at different events in the Tokyo area.
After some ups and downs flash to 2009 where he experienced his busiest and most successful year yet, which included graduating from Waseda University and working with Music TV channel SpaceShower on a ringtone release.
With a simple sound and melodies that immediately catch the ear, he is quickly becoming another indies star to watch out for.
……
1987年うまれ。歌うたいであり宅録家。
30代でキャッスルを建て、40代で喫茶店、50代で吟遊詩人になるのが夢。
・2005年 … 一人で作っていたどうしようもないデモテープがくるり・佐藤社長の耳に止まりBounce.com内ノイズマッカートニーレコード連載にて紹介され、舞い上がる。
「高校を辞める」とひたすら駄々をこねる。
・2006年 … 高校卒業、大学入学とともにサポートバンド編成でライブ活動をはじめる。吉祥寺Planet.Kにて自主企画『甘党祭』を始める。
「nojico band」に参加。
初めてモンゴルの大地を踏む。(以降たびたび「モンゴルに帰る」と駄々をこねる)
(高校宅録生活総まとめ『そのいち』『そのに』製作)
・2007年 … バンド「チャレンジ&カバー」として活動するもいろいろあり、ソロに戻る。「さちのゆめ」名義で二本のライブをやるというわかりづらい経歴を作る。
(のちデモ三部作とまとめられる『demo6/9`07 319その後』、『demo8/9`07 世界の終わり』、『demo10/13`07 あいのうた』製作)
・2008年 … 鈴木大輔と二人で『ユニットよしむらひらく』として活動するも、いろいろあってソロに戻る。
友人バンドの録音を手伝いはじめ「スタジオローサ」の活動も活発化。二度目のモンゴル逍遥。
高校時代からやってきた自主企画『甘党祭』のファイナルサーキットを実施。
共演は、ゆーきゃんwith music from the mars、タニザワトモフミ、nojico、ふくろうず、石橋英子×アチコ、サンゼン、Akeboshi、シャムキャッツ。
(『夜になりたい』、『奇跡』、ライブベスト盤『よしむらひらくアーリーデイズ』製作。)
・2009年 … 岸田佳也さんとの衝撃の出会いを経て、3月に初のワンマン『甘党祭ファイナル3』を開催。この日まで怒涛のライブラッシュをこなした五期よしmバンドが終了。
3月、早稲田大学第二文学部を三年で卒業(中退)。6月、自然気胸を発症。ベッドの上で過ごした寝るだけの6日間、プライスレス。
7月、SPACE SHOWER TVモバイルSNS『mob』にて着うたリリース企画開始。
(『Popular music under the ground』、『demo4/21 嵐の前のつむじ風』製作。)