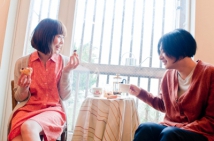 Bamkuchen is an acoustic unit featuring the talents of Ai Kobayashi on piano/vocal and Akira Kanbayashi on percussion/drums.
Their sound includes strong melodies lifted up by Kobayashi's powerful yet sweet vocals. Bamkuchen's goal as a band is to making "songs for everyone" that leave them feeling at peace.
They are currently performing live in cafes around the Tokyo area and their first mini album "Seikatsu no Jikan (Everyday Life's Time)" is available at their live events.
A highly recommended band. Check their sounds here.
………
バムクーヘン
目指すは「みんなのうた」
スキナモノはみんなのうた。
音楽祭やカフェライブを展開中
◇CD
7/11 ミニアルバ�
『生活の時間』が発売しました!!  こちらで軽く試聴出来ます
ライブ、CDに関してお問い合わせはこちらにーー> bamkuchen@hotmail.co.jp