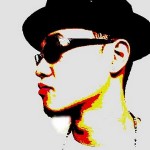 The son of a famous DJ in Japan, Pig The Ryo was raised with and influenced by music throughout his childhood, especially "Black" music.
By his teen years he had picked up the "Mic" and begun rapping. He was soon performing with his own unique style around clubs in the Tokyo city areas.
He is currently working solo as well as with two man unit (Hearts of Brain w/ Assan) and the Groove unit Potato Tips. He continues to work the club scene but can also be found delivering speeches at local high schools and performing at various care facilities. Truly a rapper with many skills.
His first full album "PLASTIC BOX" can be found on Amazon Japan.
………
父親–現・DJ–のハスキー中川の影響で Blackmusicをはじめ様々な音楽に触れて育った幼い頃。
10代半ばから自らMICを持ちラッパーの道に進み始め自らイベントの主催などをするかたわら
都内のクラブにて独自のスタイルでのパフォーマンスを披露している。
.. 現在はSOLO 以外にユニット(Potato Tips / Hearts of Brain w Assan)参加や様々な活動で都内クラブを中心にLIVEを展開中。都内高校での演説や養護施設などでのLIVE依頼など活動範囲は幅広いRAPPERである。
彼のファストフルーアルバム「PLASTIC BOX」今Amazonにあります!