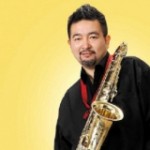 At 6 foot 200 pounds, saxophonist Bronze Sambe is big guy with an even bigger sound. In Japan they call him "The Big Tenor".
He has been releasing music since 2007, including his 8th album "Baggage Blame" which made it on to the USA  Jazz charts.
You can find much of his music on iTunes US and Japan. So come on and Cool down with this international artist.
…….
身長185センチ以上 体重90キロでジャズサックス奏者ブロンズ・サンベは結構大きい、でも彼のサックスサウンドも大きいです。日本で"ザビッグテナー"と呼ばれてる
彼が2007年から自分の音楽をリーリスして、現在8枚目"Baggage Blame"発売中、しかもアメリカのジャズチャートにも入ってます
サンベさんの音楽が日本とアメリカiTunesに見つかる事出来ます。絶対そのクールな国際的なアーティストをチェック。