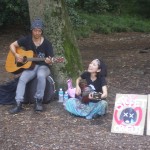 Hear about Sawa's campaign in this exclusive interview.
この独占インタビューにSawaのキャンペーンについて聞きましょう!

In the popular Inogashira Park on a hot and humid Sunday we find indies artists Sawa and her partner Zizi singing live for everyone to hear. There are not many people yet but things have just started and people are beginning to notice.
熱く、湿気のある日曜日の井の頭公園でインディーズアーティストSawaと彼女のパートナーZiziの歌ってる姿を見る。見てる人まだ多くないが事はちょうど始まり、人々は気づき始めている。
It is a street live, a not uncommon site in the park or around Tokyo for that matter, but there is one big difference with this show. Where you usually find fliers, CDs or something with information promoting the performing artist, there is only a sign-up sheet and two homemade signs featuring a cutely drawn dog and cat with the words "STOP Animal Cruelty".
それはストリットライブ、公園のまたは東京のまわりのその点では珍しくないがこのショー1つの大きい相違がある。ビラ、CDまたはアーティスト情報の普通にあるところで可愛く書いた猫と犬の絵。そしてその絵の下に書いたものは"停止動物虐待"
This live event is the first step of a summer campaign for the promotion of better laws to protect animals in Japan and Sawa and her crew are collecting signatures from the audience for a petition.  It is a scene you don't see often in Japan from performing artists, but hopefully this energetic young lady's campaign will start a trend. A trend of giving back to the world around you.
このイベントは日本の動物を保護するよりよい法律の昇進のための夏のキャンペーンの第一歩であり、Sawaと彼女の友達は嘆願書のための聴衆から署名を集めている。そのシーンが東京であまり見ないけどうまく行けばこの精力的な若者のキャンペーンは運動を起こすかも知らない。
Check Sawa's Myspace page and blog for more info!
もっと知りたいなら是非SawaのMyspaceとブログを見てくれ!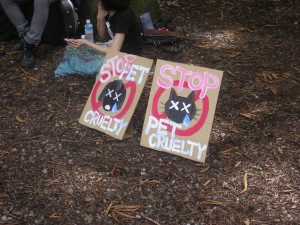 Podcast: Play in new window | Download